So since I too have happened to wash my dreadlocks today, I can't remember the last time I did that, I decided to share a few recent pictures of my hair. This one is from my girlfriend's birthday the other weekend. First she tied the pink ribbon from a present around a dread. Then she decided I needed the bandana for an accessory. As for the final touch I had to pose with my gift to her. Oh and you can see my new favorite shirt that I received in the mail on election day.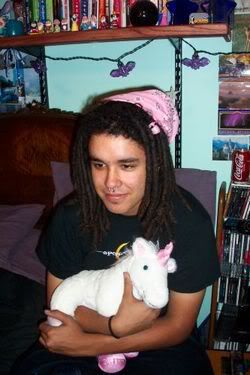 I think I've had them for about two and a half years now. I know the last time scissors have touched my hair was my 18th birthday...and that was to just to even it out for my dreadlocks.
Next few shots are about where I work and my pre-dreadlocked hair picture. My friends are curious about what my job looks like because I work in a factory that makes bottle preforms for Coka-Cola. I think we're responsible for the entire west coast. So if you drink a Coke, Diet Coke, Sprite, Dasani, Minute Maid Lemonade, Nestea, Dr. Pepper, Fanta(I think there's one more can't remember) then it has gone through my work station at some point. I've decided to let you people get in on some of the pictures before all of my friends.
(
Collapse
)
Woah, ended up writing more then previously intended.
Oh yes. I just wanted to mention that I'm attempting to bleach and dye a few dreadlocks tomorrow night. I've never ever done anything like that before. Wait no, I'm not attempting...my girlfriend
sarar
will be attempting it. I'm little anxious to see how my hair reacts to the bleach.