hey dready folks.
The locks are gone. Ka poosh! it took about, three nights of halfassed effort a few days back. I trimmed them down to about chin length first to make things easyer. Lots of conditioner + one Mangled (on verge of deaaath) plastic comb later it was loose.
It's odd. it's nice having loose hair again... but its hard getting over how differant you look when you've had dreads for nearly two years. I don't know how i feel about it. i dont regret it.. [shrug]
The hair is in peachy condition after some intense conditioner. It was definitely worth combing out instead of getting out the clippers like a few suggested.. (the joys of products) At the end of it all i decided to hack off a fair chunk, but the options are priceless.
A couple of people were fairly negative about the possible outcome. Trying to comb out fairly old/tight dreads when the reason my hair got dreaded in the first place was because it was so badly damaged. I can understand why you might think that it would be fruitless... Anyway the point of this parapragh is to thankyou for being so negative. it strengthed my patience! There's nothing like negative vibes to make you try harder.
PICTURES!
Before;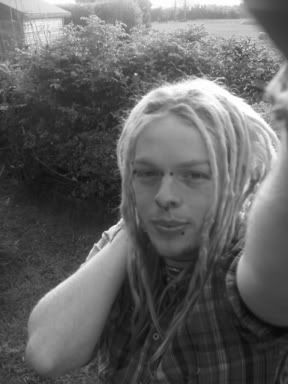 After;


(

Collapse

)