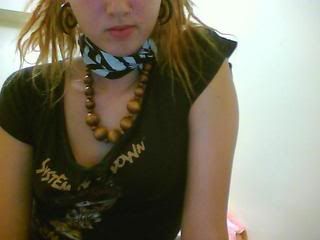 Long time no post! I've had a hectic Summer. Made the big move to Toronto (I'm from Northern Ontario), went through some housing difficulties so ended up couch surfing for a while, but it was a good time. Now I'm living right downtown in a cockroach and mouse-infested rooming house full of old foreign homophobic men. It's not the greatest place, but I think of it as a base-of-operations rather than a home. I'm already searching for something new. Starting College in the Fall for Make-up Artistry and Fashion design, which I'm really excited about. Been out of high school dilly-dalying for a few years, I'm happy to be on my way to a carreer (YAY NO MOAR WORKING RETAIL)
I've gotten nothing but compliments on my dreads since I moved here. There is a homeless guy I see every day on my way home from work, and every time he sees me he tells me he absolutely loves my hair. I met up with my Grandma who lives outside Toronto, she saw the dreads for the first time and she said 'oh.. how did you put those in your hair.. with a fork?' hahahaha. She is so cute.
I'm going to have to do a proper timeline soon. My dreadies turn 6 months at the beginning of September. I have many pictures to post but none of them are on this computer, so I will just post a few for now!
(
Collapse
)