you guys have been asking for years to see my dreads collection. to kick off 2011, i've decided to finally photograph it for you.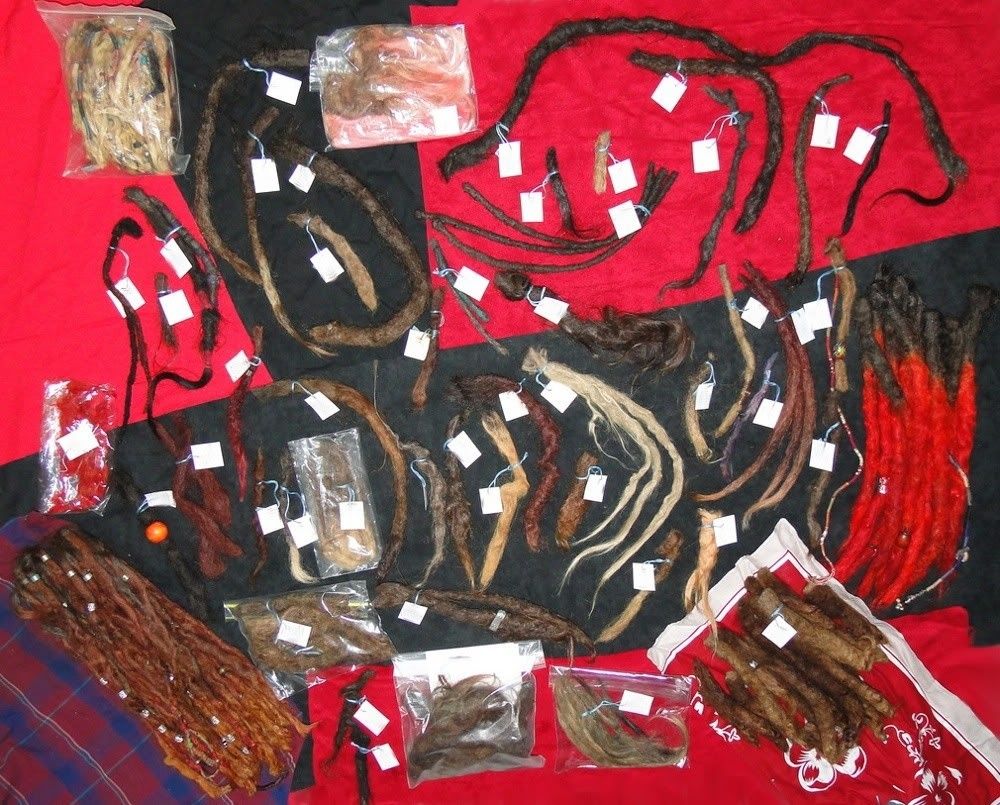 most people sent one, others sent several or a bagful. a few sent their entire set. there are hard, mature locks & squishy babies. long congos with multiple tips, & short pieces that were just trimmed tips. bleached & dyed, natural & sun-bleached. crazy loops & perfectly smooth locks. there are bare dreads & decorated dreads: rings, beads, wraps, & threadlocks. they were backcombed, ripped & twisted, permed, ignored until the knots came by themselves; some contain old wax & some were overworked until they broke off. there are dreads from people whose faces i've never seen, & dreads from people i've seen naked. dreads i've done maintenance on & dreads i originally started years before. dreads i cut off of myself & others. some whose owners have left lj forever, & some who will recognize theirs from this post. they've come from around the world, have visited innumerable places; have provided warmth, comfort, frustration, pride, a sense of belonging, a sense of outcast, a sense of freedom. & all in my collection are tagged, cared for, & appreciated.



(

bigger and more picsCollapse

)



the tags have the owner's full name & lj; they've all been obscured for these pics. as per the first pic, my dreads are the bag of blonde tips at the top left (first set, trimmed 10-99), the full set (undercut) at the bottom left (first set, cut 11-01), & the full red set (dreadhawk) at the far right middle (second set, cut 11-06). feel free to call yours out if you'd like to. the rest belong to livejournal users:
alaskadanielle,
astroboy009,
attack_monkey,
autumnhawk,
beautifulmithra,
candieass1005,
dali_drama,
dreadcookie,
dreadieworld,
dreadtemujin,
dudeyrgetinadel,
dusk_phaere,
epf,
gfnesselrode,
gorthok,
ilikedrooling,
insidedown,
jennyherself,
juliemaru,
kaikea,
kawaiinose,
kikkomato,
kittypoop,
libee,
linasfyre,
littleskittles,
meowkat,
moon_bird,
names0fthedead's boyfriend,
nocreamcorn,
ohsohumpy,
omdreads,
rastaldread,
ravencreature,
robinhoodvandal,
ruthlessbabe,
sloppykristen,
starwind95,
tambis,
thecatdoesdrugs,
thewall_ofabbq,
tweedlezee,
tweedlezee's boyfriend,
xseaxgypsyx,
xsourkittenx; & others: amber r., beth s., bree s., sarah s.

my apologies to those currently in the mail who didn't make it into these pics; there will be more.

i'll end on this, my favorite note received with a lock, from
ruthlessbabe:
Enclosed, you will find a dreadlock.
Enclosed in this lock, you will find the dust of Africa, salt
of the Bermuda Triangle, copious amounts of sweat residue,
cat hair + spilt beer.
So take this lock, 4 years + 5 months of samples from the life
of Ruth, and do what you will with it.
It may just be hair, but it has picked up the tiniest bits
of my life + carried them around with me.

enjoy.