after skimming through this community for the past few days.
you all have beautiful dreads!
I'm jealous.
I decided to make a post.


Before the dreads


As you can see my hair was my pride and joy. My mother was a hair dresser for 42 years and my hair was not allowed to look "ratty" as she would say. She died in November and I decided to give my hair a drastic change. Not only did I want something new, but I wanted something that wasn't going to take me 4 hours to blow dry. My boyfriend had told me about when he had dreadlocks and how much he loved and missed them. And about how hot they are on girls. So I made my decision and let his roommate go ahead and do it.

28 hours later


I was so happy, and in love with them.
Sadly they didn't stay this beautiful.
2 days later we left home (Jackson, Mississippi) to go to a Nine Inch Nails show in Houston it took forever to get there, and my car over heated we had no AC and had 5 people packed into this tiny ass car.. by the time we got there i was so hot that i just didnt care. I took a dive into the hotel's indoor pool.
My dreads were completely fucked after that.
the entire underside of my head was no longer in dreads it was a large mat.
as well as part of the right side of my head.



It stayed that way for quite some time.
A month or so later I just got tired of the huge mat, and let my boyfriend spend 2 hours working on it.
He pulled and yanked and finally got it apart.
Instead of a bunch of long and skinny dreads, theirs now a hand full of short stubby ones.
they arent as pretty.. BUT they are the best locked ones..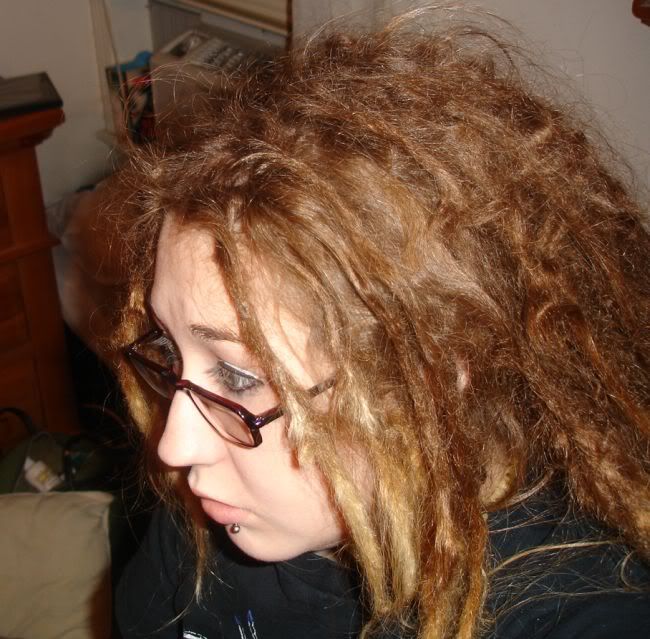 Then one day I just decided that I wanted the tips to be blonde. and POOF. it happend. with my hair having a natural red tint to it, it was hard to get it to come up. It needs to be done a few more times but we are waiting for my face to finish healing (thats a whole nothing story) before we start slapping bleach anywhere near it.

However even after all the problems ive had, I LOVE them. they arent all pretty and round, they dont look like i spent a shit of money and saw a stylist. they arent perfect and have little wings/loops in them, but i figure that its not even been 5 months and with more yanking and rolling and ALOT more time they should turn out just fine..



I know this isnt relevant, but i hope that everyone who has and is still going through the reprocusions of that twat katrina are doing alright.