Just lettin u guys see a few cool dreaddie related things I've made since my last GUDU post. My dreads are coming along nice, too. i dyed a few. i have some pics.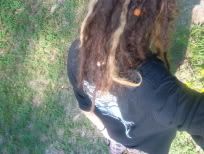 i like the blonde and brown mix, but i got all those loops on my blondies and it bugs me, but oh well. it's dreads.


here's a beautiful tam I made for somebody in ?Cali?




and a weed bead :P my favorite of them




and some stars



headband I made for somebody in Atlanta




^i really like this one^

that's it for today, i'm in college, so my internet visits are fewer and further between. What do you guys think of the stuff? :P

www.freewebs.com/customdreadstuff (if you wanna see more)


thanks for looking