Several hours, sore hands, lots of work.... you all tell me if it was worth it.

If you'll recall, before: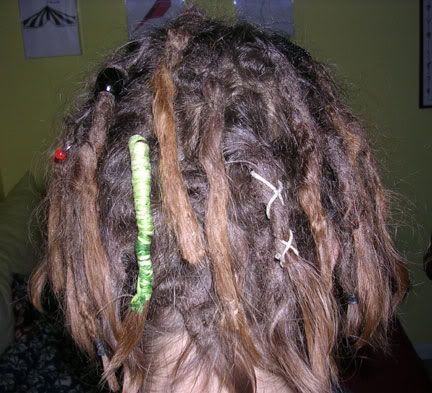 (Lots of pics, be careful)

I bought a pack of human-hair extensions. It's supposedly real hair, but this stuff had been so processed and dyed and whatnot that it feels kind of fake. I spent a couple hours the night before, making it into dreads until I was too sleepy..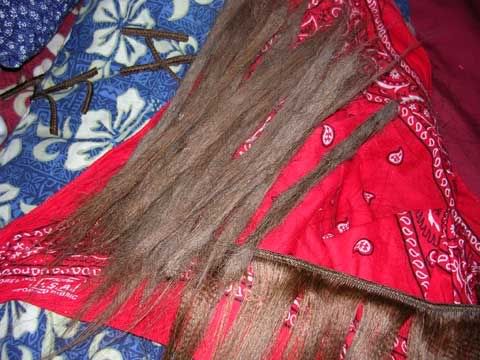 Then, the next morning, I washed my hair then started attaching them using this method, plus I used some brown thread to sew them together a little bit, to make them more secure.

This is them halfway done: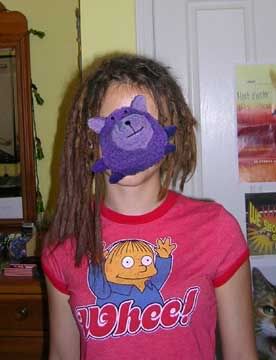 By this point, I was so sick of doing it, I wanted to quit. There's definately justification for professionals charging $200 for this stuff.
The whole thing took me about 6-6 1/2 hours to finish. Here they are, done: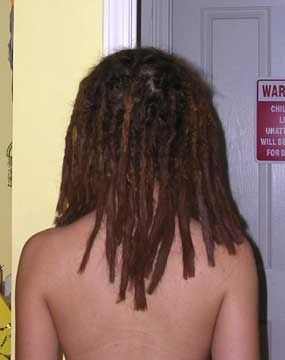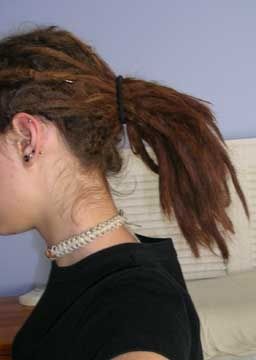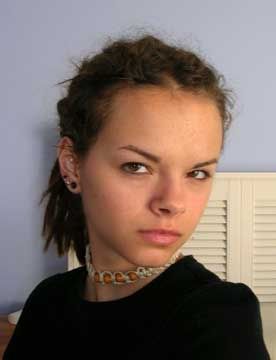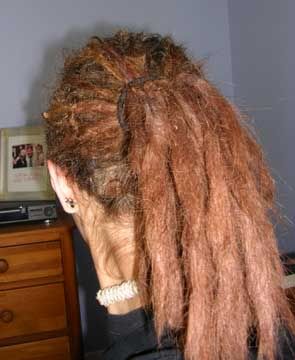 The first time I felt them against my back, it freaked me out. They look pretty funny if I have them down, so I figure I'll be wearing them up all the time for quite a while. I'm not quite sure how I feel about them. Part of me loves having long hair. I haven't had long (shoulder-length) hair since I was 13. Im happy that I can put them up. However, they do look fluffy and weird. Do extensions tighten like regular hair, does anyone know? I'm hoping they will, and that they will get softer and more real-feeling. I also feel like it kind of sucks that they're not really my hair, but my hair grows really slowly anyway, and of course dreads grow slow. And I have, um, no patience?
I was at the mall last night, and I was already in a sort of down mood, when I saw this (black, excuse me) guy look at me, say something to someone else, and laugh as I walked past. He caught me looking at him, and I think I looked sort of puzzled. I don't know what he said, but that made me really sad. I really havent gotten many negative comments about my dreads thus far.

Anyway. Do they look like crap?