I alsways wanted the downsides of my dreads to be blond. But it never worked out how I wanted. It's because I have painted the downsides red for a long time and now the reddisch stays in my hair. So my hair becomes orange. I never had the patient to just let it be orange for a few weeks and just bleach it again after a while. But now I'm going to keep it a little orange for sometime. It's just a little orange and in sunlight you really can see the blond parts so it isn't that bad. Only when I made pictures of it they looked reeeeaaaally orange...and that's not how the are in real life. So I will make some other pictures later today hoping that these will turn out beter. (I already added a colour pic in this post)
Jus now some black and white pics: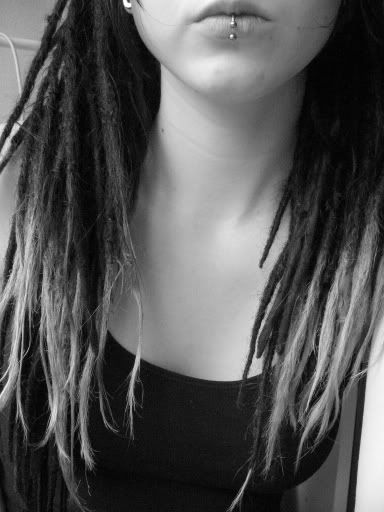 It still looks more orange than it is in real life. But...aaw well.