So, these are between two weeks and one day old.
This is all due to the fact that my hair was over two feet long, and straight, and not very dready ready.
Anyway, here are some pictures from week one, and now, the end of week two!
Halfway+ finished dreads, and my Ani shirt. (it's the lyrics to The Waiting Song.)
and this is my uni(corn)-dread, which I lots of fun poking myself in the face with.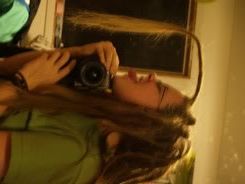 Roots, at the end of two weeks. And the most accurate color.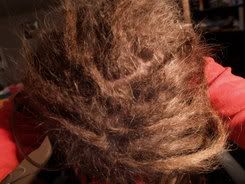 My hair before... (and me dressing up at Salvation Army..)
OK, this is serious. My head is itching like crazy, and the memories are down, and I need HELP.
I'm using dreadheadhq shampoo, and thats all, but I'd love any suggestions to help out my poor scalp. Another pic of the front of my head, where red bumps plauge my hair line.
Thanks for any help!