hi everybody *waves* i haven't ever posted in here before, so i wanted to say a quick hello before i get down to business.

okay, here's the story:
i've always been an admirer of dreadlocks, especially long ones (especially
d_e_l_e_r_i_u_m's! i'd love to have locks like hers one day), but i was unsure of whether i wanted them until recently. i haven't cut my hair in over a year, and it's now grown to be waist-length. a bit over 6 months ago i almost chopped it all off to donate to locks of love, along with my boyfriend who cut his 11-13in hair, but i decided to wait it out. i wanted to dye it hot pink, but my work won't allow it. i thought about adding some hot pink synthetic dreads to the bottom section of my hair, so i could hide them for work, but that idea just didn't seem as fun as i had hoped it might. i was, and still am, bored with my hair, but i don't want to cut it, so i decided i'm going to go for it and finally dread my hair. i also hate washing/drying/styling it every day, and most days i just throw it into a ponytail &leave it, so i'm looking forward to getting away from that aspect of my daily regime. i love the idea of putting beads and thread and other fun things into my hair, and wrapping them up on top of my head, and all of the other fun things that come with dreads. i'm kind of crafty, but i also kind of suck at doing my own hair, and since i have a lot of it, i'm afraid my dreads will look like crap if i try to do them myself, so i would like to have someone else help me start them. is there anybody in michigan who might be interested in helping me out, or who can refer me to someone? i'd definately be willing to travel a bit &pay the person, because i know it's a lot of work.

also, my hair tends to be very greasy (think wet-looking at the roots) the day after i wash it, so i massage a bit of baby powder into my roots &that holds me over for a day. by the 3rd day, however, my hair is quite obviously greasy &the only thing that helps me out is a good hat or hair wrap! i think it's genetic, because my dad's side of the family, as well as my brother, have a more greasy type of hair. i've heard that dreads will help hair appear less greasy, but is there anyone who can speak for this? i'm a little concerned that i'll have to wash them every day or every other day, &i'd like to get away from that.

thanks for reading all that, i know i said a lot. =) here's a picture of my hair, although it's about 6 months old, so i've got a bit more growth now.




probably not all that important, but i have layers in the front that are quite a bit shorter: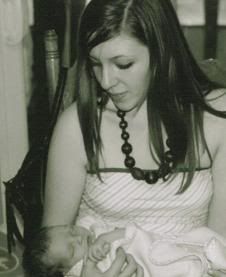 any tips are appreciated, as well! thank you &love to you all!
-nicole