Hey everyone. I'm brand new here, and I've just decided to do what i've wanted to do for years. I've recently made some HUGE changes in my life and for the first time i'm starting to feel comfortable in my own skin, which is more than I can say for the past twelve years or so of my life.
Since i have a feeling this could be a long entry, i'm going to cut it for length.

First off, my name is Marlee. *waves*
I'm half Black and half Native American(Choctaw) and i was born with extremely curly(not kinky, think spiral curls) hair. My mother always had a horrible time combing it out and making it 'behave' so when I was twelve years old SHE made the decision to have a relaxer placed on my hair. (For those of you who don't know, a relaxer basically changes the texture of your hair, and in my case, it made my hair grow straight instead of curly.) So, from the time I was twelve up until now (I'm nineteen years old, i'll be twenty in August) my hair has been straight. When the relaxer would start growing out, back to hairdresser I would go for another treatement. As a result, my hair is dry, damaged and not looking good. I've had a routine of straightening, combing, blowdrying, frizz-ease serums, flat-ironing-any kind of heat treatment to make my hair stay straight, i've done it. And i'm sick of it.

No one likes a bully, and my hair has done NOTHING to me to deserve this treatement.

Right now, my roots are starting to grow out, and i'm elated. However, i have a good amount of 'old hair', per say, that is still straight and dull and ugly. I'm not having my hair relaxed again. I'm going to let my roots grow as they will. And i've decided to lock my hair up. I've spent quite some time thinking about this. For me, this is just one more thing I feel I need to change about myself in order to find some medium of peace. I cannot recall a time when my hair has been in a 'natural' state-I don't remember what it's like to have curly hair.

Dreads just feel so right to me. I've always tried to fit in, and really, why should i give a damn what anyone thinks of me anymore? I'll finnaly be at peace with myself and be able to stop fighting my hair. So, hence my choice. This summer i'm going to go for it and do what I feel i need to do.

Phew. Glad that's done. Now for my questions.
I have two textures of hair right now-my new, very short growth of my curly roots and the much longer section of old relaxed straight hair. My relaxed hair is damaged and by no means shiny or glossy. It's dry and just plain ugly. What is the most likely thing that would happen if I started my dreads at this point in time? One of my friends suggested I could trim the dreads as my roots grow out, but i don't know if that would work out so well. I'm worried that my old growth would break off and leave me bald or something. I just really don't know what would happen.

Also, i'm really hesistant to wait until my roots grow out to a longer length, because that could take quite some time-also I don't really KNOW how my hair would turn out because it's been relaxed for the past eight years. I figure if I start my dreads now and let them age for a bit and end up not being able to stand them i can just chop off my hair and get extensions braided in until my hair grows to out to a proper length. So..should I do the dreads now or is it just a bad idea because of the state my hair is in?

I really need opinions, and my family is no help. I've only told my mom about what i want to do, but she's already taken to calling me 'the Ubangi-Hippy'. (She's not exactly thrilled with this.)
Wow-this is a long question.
I know i'm in kind of an unusual situation, but any input would be GREATLY appreciated. Thanks!
And for starters, here's what i look like on a day to day basis(with my ugly hair in tow)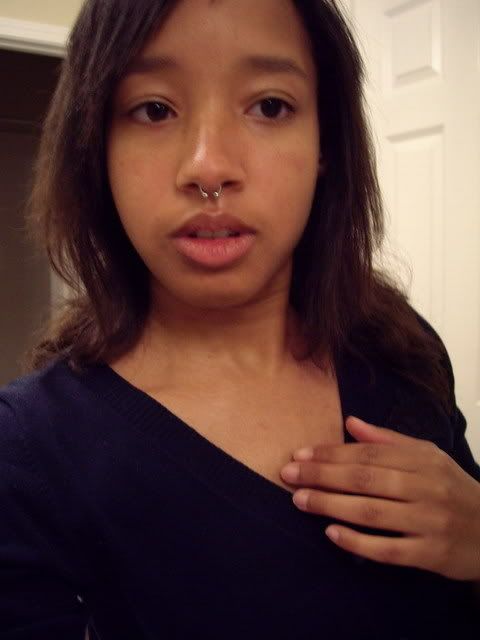 Sorry this is such a long entry!