One month old already. Madness.



Again, as with last time, please excuse the poor camera phone quality.
I promise, my face isn't really green, my hair isn't really dirty---
I'm not even a brunette, for that matter.
Haha. I'll get my hands on a real camera soon enough.

In the meantime....


my once oh-so-tidy 'locks now have a mind of their own.


The good side.





... The bad side-- the one that hates me.
These kids really like to test their limits... rascals....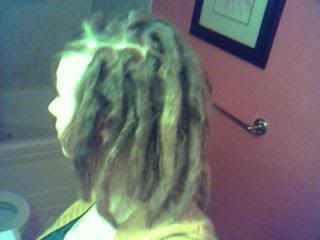 Back of the head shot.
I can't really explain how,
but we got those few rounded ends without felting needles.
Man, I can't wait to get some length back.




Things are about to get lewpy...
I mean that lovingly, of course.




Me and my best friend David-- normal camera, normal colored, haha.
I'm pretty much faking a tam with an oversized winter hat.
(I've done that for probably 2 years, even before the dreads.)



Aaand I'll throw in some henna, just for kicks.





That's all for now, folks!