Today morning I left from home to visit a school friend,- the first who has a baby. On the way I got a call that I shouldn't go after all because they had a very tough night. So instead I just visited that friend that I was supposed to visit her with. From there we went to another friend's place who cut the bangs of the girl who I went with. The she left but we two decided to dye my hair today.
You don't know how much problems I had with deciding on the color. I wanted light brown, almost blond, because I just loooove that color on dreads. But, unforunately, not so much on noral hair, amd now 6 locks are opened in the front for bangs. I really love dark brown for normal hair but not so much on dreads. Then there was red, but you know, that natural kind of, a bit brownish. Yesterday finally I decided that I'll pick that but today when I told it to my friends they both said I should pick blond/light brown. I have to mention, that I had the same dilemma in the summer and then all of them said I should never think of blondish, I should go with red..Ugh, friends...=)
But well, we went to pick a color. Something blondish brownish. Finally we picked this one and bought 5 boxes of it.






We actually meant to use 4 boxes ( we learned well in the summer that 3 boxes are not enough) and I'd have taken the 5th with me back to Finland so I can redye the stems when it's needed. Well, I will need to buy more if I want to do that because all the 5 boxes were used away.

But anyway, before we did anything we opened one more lock that is still part of my bangs..at least half of it, the other one is a baby dread now.



The opening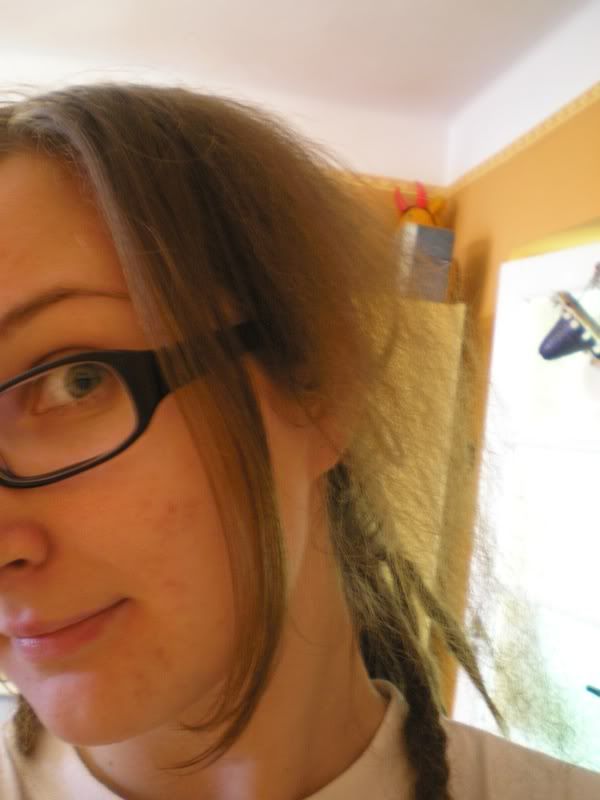 Already in the summer when we opened the first 3 locks in the front we were very surprised that my hair is really really healthy!! Of course the end is shitty, but I could easily have long hair after opening my locks (which won't happen for quite some time still). The only one thing is that it is full of dust and such.


After the opening we have started the big work



Excited? Scared?



Then drying it..I guess a simple hairdryer would have done it but at least we could play cards meanwhile




And the result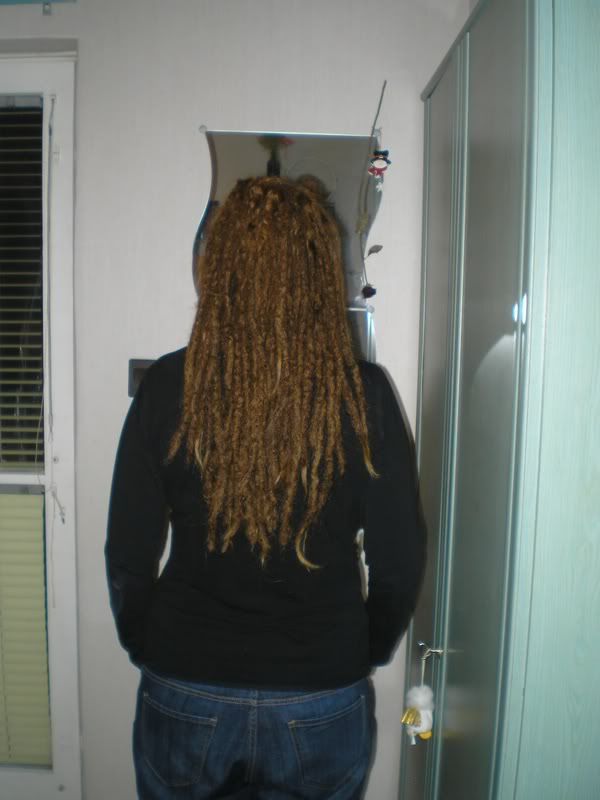 And above the pants that absolutely became too big in the past 3 weeks:)


Baby dread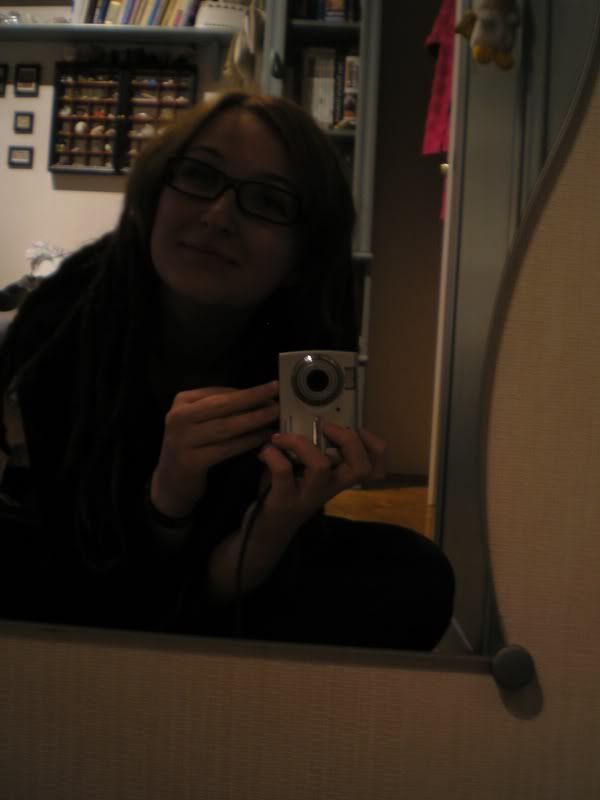 First the change was huuuuge to me. Now I don't see it that much anymore, I've got to used to it pretty quickly but first I didn't like it.And on these pics you can't see it that well either. Eventually it doesn't have anything to do with blond but red. You can see that change much much more on my bangs and stems then on the rest. I really like my dreads. The change is not big but it has a nice color still and it's shine is really pretty in sunlight. I don't know what to do with my bangs..Im not sure I will keep them this color. As I said I have quickly got used to it but it is not neccessarily a good thing. But it would fit well to all my green stuff, and I have quite some of those=)

Opinions? Advice?

Though I find trying out new colors exciting, I realized how much I like my natural color (or something really close to it).

In the past 2 days my hair have given me a lot of joy! <3 :)