Hey guys,

I was just looking at the AITO (Amnesty International Toronto Organization) website, and saw that they had put up the pictures from the 2008 Reel Awareness Film Festival for Human Rights. If any of you live in the Toronto area I highly recommend coming out for the festival in 2009. I had such an amazing time handing out flyers on the street, and talking to people involved with the film, and others who are interested in human rights. It was SO great.

Anyhoo, I found out that there's a picture of me on there from the Q&A session after one of the films. I'm mid-question with my mouth hanging open so I thought I'd share!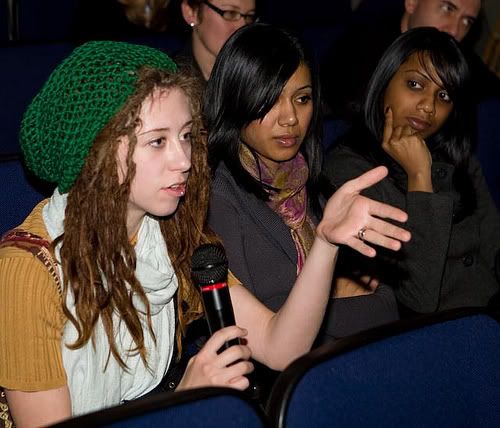 The tam was made by Trashclass :) she's so sweet. She made it for me ages ago but I didn't have any good pics. Sometimes I wear all of my hair in the tam, but for that cold day I wore my hair down to keep my ears warm.