because i was tripping out with blacklight, paint and feathers, and i was having fun taking pictures with the camera i had for christmas... and then i noticed how blacklights make us see all the fluffy stuff that stays in our dreads from everyday life. stuff like t-shirt material, acrylic fluffies, paint, etc... and i decided to take more pictures, in normal light...

are you ready?
then






here is the picture that started it all... look at all that white glowing near the top of my dreads!



and another one, just because i like it... ;)

so after seeing these on the computer, i decided to go in the bathroom light and investigate some more on what is going on... picture session part ii :D



yarr. here i am. :p



checking out the back view...



showing off the bead that my boyfriend's aunt made for me at christmas... i love the geometry in it! :)
but... wait... i never noticed the texture of my dreads looked like that.... is it bad? they look all broken!!



one more close-up... notice the white fluff... what is it? shampoo build-up or clothes stuff? also, my hair all looks so broken! why? i haven't been using any crochet or felting needles on those parts... why are they like that? anyone else experiences textures like that??



the top of my head... omg bald spots... well i guess that was to be expected, because my hair is fine, but i never thought it was so intense...! and... fluorescent paint... that must come from the dried up peeling paint on my hands... i am such a messy artist! :p



that spot of orange acrylic paint has been there since october... i don't know what to do to make it go away, i have just come to accept that it's there :p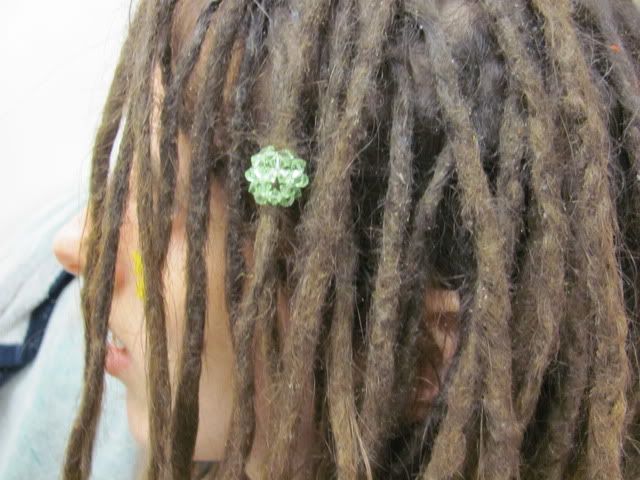 texture... it looks a little better at this distance, but you can still see that broken look... i'm a bit worried by it...



ok back to the paint... yay paint! :D



and feathers! :D



a feather butterfly <3