I had my two year dreadiversary on april 2nd but my life has been so hectic that I haven't had time to update. It still is, so I put together a mediocre timeline, with not the most flattering photos, when I really wanted to put together a better one for the 2yr mark.



old timeline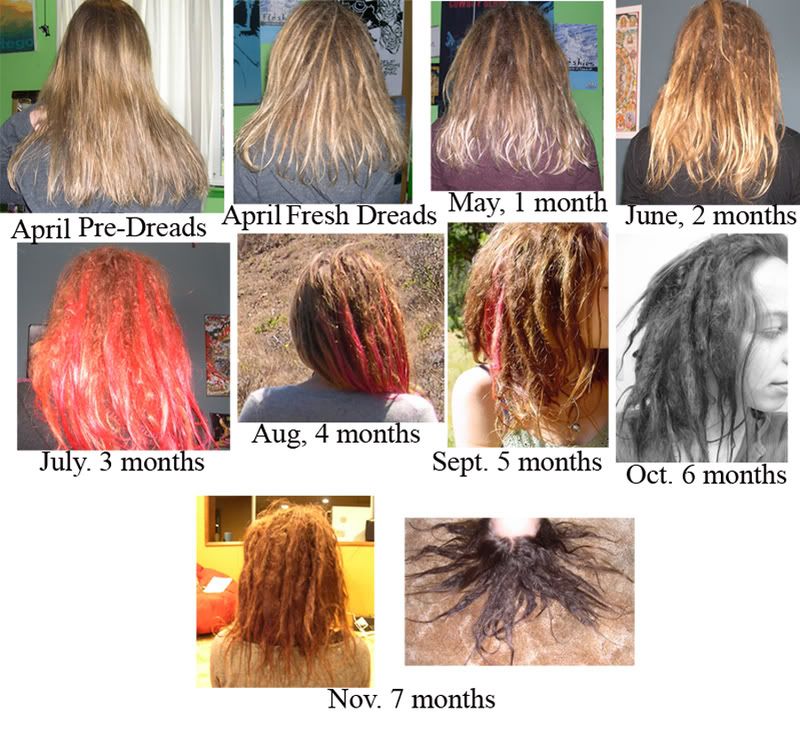 1 year, 4 months, went through a blonde phase between the last photo and this one, but dont have any photos handy of that. liked this teal for like.. a minute. so needed change again.



1 year, 7 months, spent way way too much time, effort, and money to get pale blonde. i did love it, until it got dingy, roots showing, hair breaking off, etc.



1 year 10 months, needed color in my hair. sort of wished i never did that, its impossible to get pink out of my hair :/




almost 2 years, kept dying my hair different shades, but not really digging it over all.



2 years, not happy with my dreads at all :/ almost 2 months the red started to bleed into the blond no matter how careful i was, and it was really pissing me off.



2 years, took another plunge and dyed all of my dreads what i thought was going to be a deep red. it turned bright clown red, not a good red, so i dyed auburn over it and im mostly happy how it turned out, it was dark at first but as it fades i enjoy it. but i know sun and shampoo will eventually fade it out too much, but im just sooooooo glad to have it all one color again! and not blonde. my hair can never be bleached again, itll break right off.





and now: 2 years, 3 months, my hair has grown SO MUCH in the last 2 months, its fantastic. its really making me love my dreads again with the prospect that they should grow alot here on out.



i have a few really thin dreads that either broke halfway down the dread or is hanging on for dear life right now, i really ought to get those crocheted in. part of me does look forward to eventually having another set one day, but totally natural, no dyes and if i can get away with a disheveled look, no backcombing either. a lot of folks at http://knottylocks.tk have natural sets compared to GUDU, i rarely see any naturals on here.

i hope everyone is enjoying the beginning of their summers :)