Had some setbacks [sis-in-law backcombed incorrectly] but I've got about half my head dreaded. Forty-one (41) total, with 24 in braids so we could remove the rubberbands. Banding my roots was starting to give me a headache [I'd had them in since Saturday], so the braided sections won't get tangled, and less stress on my head. Given the time it's taken to start them, it'll probably be Friday before they're completely finished; to ensure a good start on the locking process, I won't wash until a week after the last one is backcombed. [Since it's taken so long, I'm getting the itchies like crazy and need to wash before doing any new ones, and so I don't destroy the ones I've made by scratching.]

A few pics behind the cut, and a generic description of my process just for anyone who's curious :)

As always, the GuDu mems were a tremendous help. Thanks again to all the mods and maintainers who've worked on these memories over the years; great info in there.

I actually planned for these at the beginning of the year; mid- to late-January I decided to stop using conditioner and brushing my hair, as well as quit using mousse. That didn't really work out; I knew that wasn't the way I wanted to go. I wanted more uniform locks, so I knew that simply letting my hair do its thing wouldn't accomplish that. I did stop using mousse and conditioner though, at least knowingly. I was using Denorex for my dandruff/scalp issues, and just a few days ago noticed that it's a 2-in-1 Shampoo + Conditioner. Sigh. But I don't wash my hair often as it is [once, twice a week] and had also used a plain shampoo after the Denorex. So I figure some of the conditioner was stripped out.

As I've said before I found out my sister-in-law [TK] was coming to visit, and felt it was a sign to get my dreads started. No way I could section myself :) I wrote her a message through deviantART asking if she'd help. She said she didn't care for dreads but would be happy to help me. I said I'd supply all we needed, which wouldn't be much [no wax!] At the time I thought she was coming in for 2 weeks but she's since extended her stay, so no huge rush.

When she got here we went shopping for a metal comb and rubber bands. She also asked that I buy a pick so she could section cleanly. I bought this comb at PetSmart for around $7 [even cheaper if you have a PetSmart card]: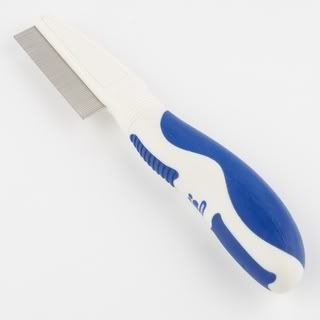 Product Link

The night before we sectioned [the first time] I washed with Equate brand T-gel. The next day TK sectioned my head into 24 chunks. I was bothered; I've always been told my hair was thick. Why would I only get 24 locks out of approx. 1 inch sections? Turns out she made huge chunks. I asked her to redo them, smaller, using a ruler if need be. After she got started her mom helped see if the sizes were about right. Ended up with 39 sections. Then bit by bit we started backcombing; she in the back and I in the front.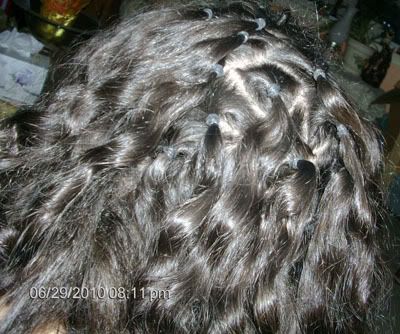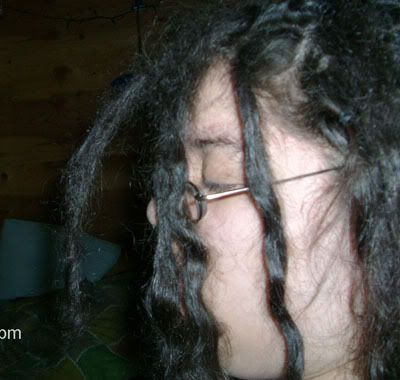 Last night I felt around and realized that she was teasing the hair, trying to go quickly and get it over with faster. I'd shown her two video tutorials on backcombing, and explained that "backcombing ≠ big teased ball", but hers turned out fat, as well as not fully knotted. At that point I realized I'd have to do them myself. She was tired of it, and I was grateful but knew criticizing her would hurt her feelings, even if I were nice about it [she's more sensitive than I am, which is saying something]. So I brushed out about 5 which she'd done, split up one and backcombed a few, and this morning I had her braid the remaining sections [ending with 41]. Her mom thought maybe if I taught them how to backcomb properly, they could finish my head and I wouldn't have to worry about it. But after I showed them and explained that it would take awhile [given our inexperience], they seemed a bit put off by the idea. And I was honestly not looking forward to fixing more floofy, inconsistent dreads. I did tell TK I'd buy her a big pretzel at the next movie we see [probably The Last Airbender since we're all nerds] and she seemed surprised and appreciative. She really is a sweet gal.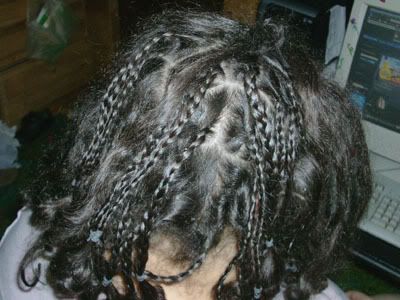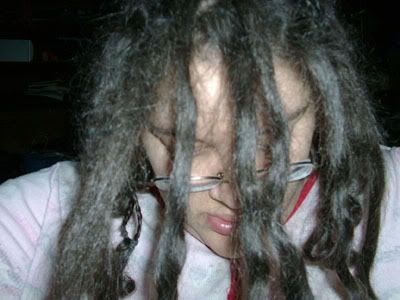 Another shot of the front, which I did. Now if they're messed up it's completely my fault and I have no one to blame :)

I'm not thrilled with the sectioning. I wanted med-thin [about pinky-to-index finger sized] dreads in a brick/honeycomb layout, and they're mostly that way, but not as clear as I'd hoped. I still think they're too big [may split a few later], but I understand that she was tired so I really have no room to complain. I am very grateful that she helped me at all. And at no expense.

I'm fine with waiting them out as they mature, and I realize it will be months before I even see much results, and at least a year before they can be considered 'mature', but I'm excited, nonetheless.


Stay happy and healthy, GuDu'ers :) Thanks for being such an intelligent and happy comm. Much love.